From the Users tool you can manage your domain users' information. The default screen displays users in the domain and allows you to:
Search users (check the box to limit your search results to Active users only).
Select the New [plus sign] button to Create new users.
Use the vertical menu in the toolbar to Import, bulk update, delete, and restore users.
Select a User ID to access and edit a student's User screens (described below).
User screens
Selecting a user from the Users tool by selecting their User ID opens their users screens. The users screens include eight-to-ten tabs that allow you to access and manage a user's:
Details
Performance
Calendar
Observed Enrollments (enrollments observed by the student)
Observed Users (users observed by the student)
Printable Performance summary for students (Print is only available in the toolbar from the Performance tab; select Show Past Courses for performance data on closed courses.)
Dashboard for teachers that aggregates and displays data about student performance, progress, and teacher responsiveness.
Observers (users observing the student)

The user Details screen allows you to review the user's information and:
Edit and Save names, email, external IDs, descriptions, accommodations, and other details.
Use the vertical menu in the toolbar to:

Change password for that user.
Reset Lockout for the user.
Edit feature settings for the user if you want them to differ from others in the domain.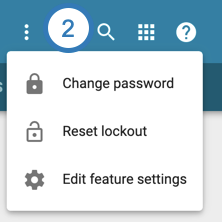 History
History allow admins to review changes made to users.
Select the View options to see the old and new values.
Select Changes to see changed settings.
Select Details to see current settings.