Secure user information with greater control over password requirements.
To set your password policy:
Select More from the Header menu.
Select Domain Settings.

Locate the Authentication card and complete the relevant fields:


Minimum password length

in characters.
Minimum character classes used, up to four (a-z, A-Z, 0-9, other).
The

Number of unsuccessful login attempts before lockout.
The

Minutes until lockout expires. By default, lockouts don't expire.
The number of

Days until passwords expire. By default, passwords don't expire.
The number of

Days to wait before you can reuse a password. By default, there is no wait.

Select Save

.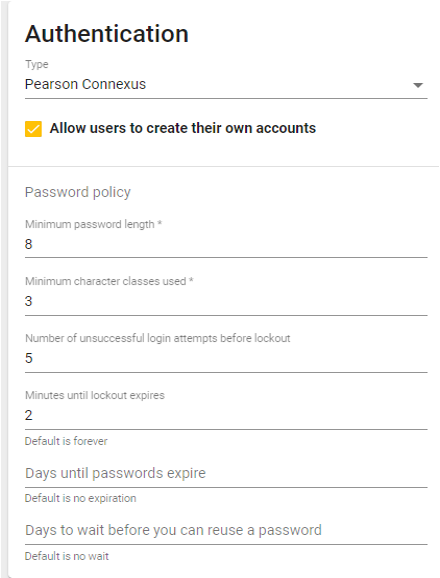 ISO duration designators
ISO durations use one-letter designators and a simple format to indicate standardized time intervals. To enter a duration:
Enter P (period) if you want to use days, weeks, months, or years as your unit of time, and PT (period, time) if you want to use seconds, minutes, or hours.
Enter the number of units that you want to use.
Enter the desired time unit designators:

D (days), W (weeks), M (months), Y (years) if you used P.
S (seconds), M (minutes), H (hours) if you used PT.
Additional Articles