Course Settings allows you to manage course details like appearance, metadata, scheduling, and gradebook settings.
Open the Editor tool.
Select Course settings from Tools in the toolbar.
From Course settings, you can edit Course details, Gradebook options, Multi-outcome scoring, Grade categories, Grading periods, Objective mastery, Grade scales, and other advanced options.
Course details
Manage:
Course thumbnail and Color

Recommended thumbnail file type: PNG or JPG (Pearson Connexus converts all files into PNGs).
Ideal thumbnail size: 400px x 400px (Pearson Connexus automatically resizes images, so uploading images smaller than 400px x 400px may reduce quality).

Course title: Note: It is best practice to add any custom identifiers to the end of a course title. Do not remove the original course title or course information.
Term (this field is titled School year if your domain has domain-level Grading Periods set up).
Start and End dates
Whether it's a Continuous course (if so, specify the number of Days the course should run for).
Whether to Use agendas in this course.
Gradebook options
Manage:
The minimum Passing Score in percents.
The desired Passing score Grade Scale.
The way(s) you want student performance indicated: Points, Percent (%), Letter grade, and/or Minutes spent. This option impacts Course Cards and the Grades/Gradebook tools. If you choose multiple formats, Letter grade takes priority, then Points, and then Percentage.
Multi-outcome scoring
To set up Multi-Outcome Scoring:
Select Enable multi-outcome scoring.
Select Add Scoring Outcome.
Check the boxes next to the pre-existing outcomes that you want to track.
Select Done.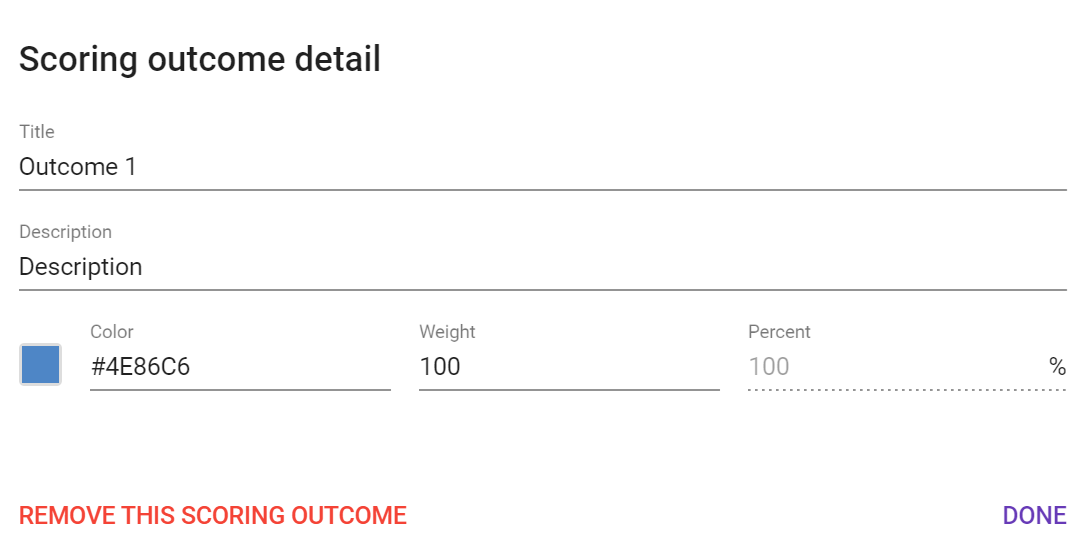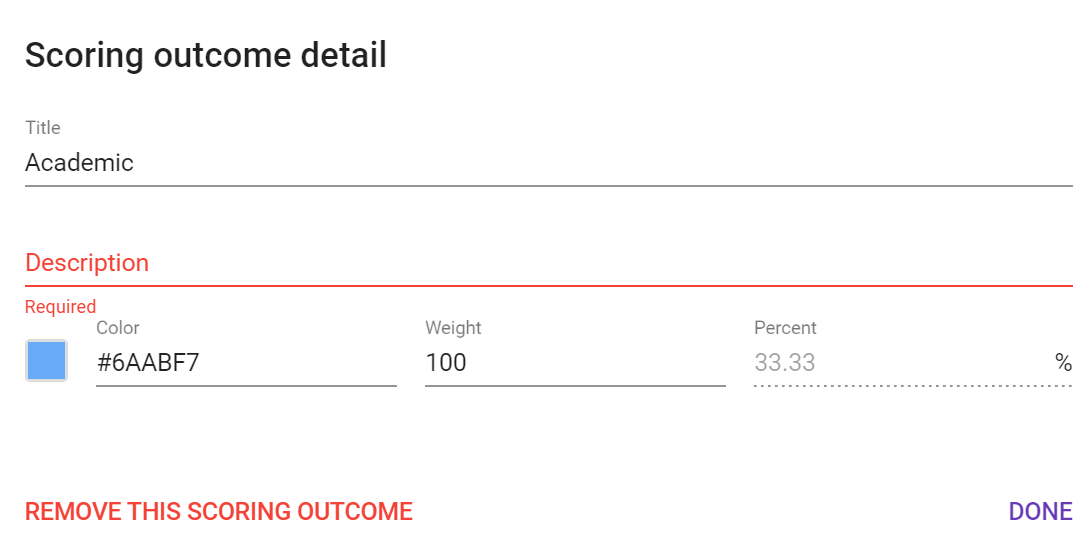 Grading Categories
Grading Categories lists existing grading categories for editing and allows you to create new categories.
Grading periods
Grading Periods allow you to enable, create, and define individual grading periods within the course. There are two approaches to using Grading Periods:
Objective mastery
Manage Objective Mastery in Core Courses:
Grade scales
Create pass/fail, plus/minus, straight letter grade, and other Grade Scales to use for course and objective scoring.
Advanced options
Manage the following options:
Allow students to see comparative class statistics
Hide student course-completion percentage
When auto-generating due dates, provide less time for activities that require only viewing. Only applicable in continuous enrollment courses.

When unchecked, all activities are considered equally to calculate the time allowed for each and what due date to assign.
When checked, activities that require only viewing get less time than other activities.
NOTE: To create an activity that requires only viewing from the student, use the Assignment, Custom Activity, Rich-text, or Website link Activity types and disable the This activity is gradable option.

Technical note: If you create activities through the XLI API, activities that require only viewing are non-gradable item's whose type is AssetLink or Resource.

Automatically assign zero scores to past-due activities (The zero is assigned when the due date passes even if students are allowed to late submissions.)

NOTE: This functionality is not supported in BrainHoney, so you will need to reselect this setting when migrating courses from BrainHoney to Pearson Connexus.

Hide teacher names in student reports (If not hidden, teacher(s) first and last names appear in various places the student Grades tool.)
Student tasks
Student tasks allow students to self-assign activities. Decide whether to:
Enable student tasks
Enable submissions of student tasks
Enrollment completion
Enrollment Completion indicates in which of the following ways course completion is triggered. This is particularly important for continuous enrollment courses:
Manual completion.
Automatic when all items are complete; this option asks you to check or uncheck the Require course passing score box.
Automatic when all gradable items are complete; this option asks you to check or uncheck the Require course passing score box.
Automatic when all items in this category are complete; this option asks you to check or uncheck the Require course passing score box and choose the desired category from the dropdown.
Badges
Create and manage
Badges
.
Variables
The Variables section allows you to create and manage replacement variables for the course.
Use Variables to personalize and optimize content authoring and distribution
Blackout dates
Blackout Dates let you Add, Name, and specify date ranges that you don't want included when Pearson Connexus calculates suggested due dates for continuous enrollment courses. These dates appear on your course calendar.
Publisher options
Publisher options are meant to help manage Master and Derivative courses and your full curriculum. Indicate whether you want to:
Prevent content edits in derivative courses
Show indicator for edited content in derivative courses