The Course Details Report allows Administrators to view all course details, including course metadata and creation/modification dates for all course states.
To Run a Course Details Report:
Select Other Reports from the Main Menu, then select Course Details.
Choose a Domain from the drop-down menu (Administrators only) Note: District Administrators can view course details for any school in their domain, but each report contains course details for a single domain.
Select the course(s) to be included in the report by highlighting them and selecting the double arrows. All active courses are selected by default.
Select the Course State

Active: Courses that are currently in use
Active & Expired: All courses, except those that are deactivated
Deleted Courses: Not visible in Courses menu, but can be included in this report
Deactivated: Courses that are no longer available for use, but students enrolled in them are able to complete the course.
Note: to view all active courses without consideration for their end date, select Active & Expired.

Select Submit.
Reading the Course Details Report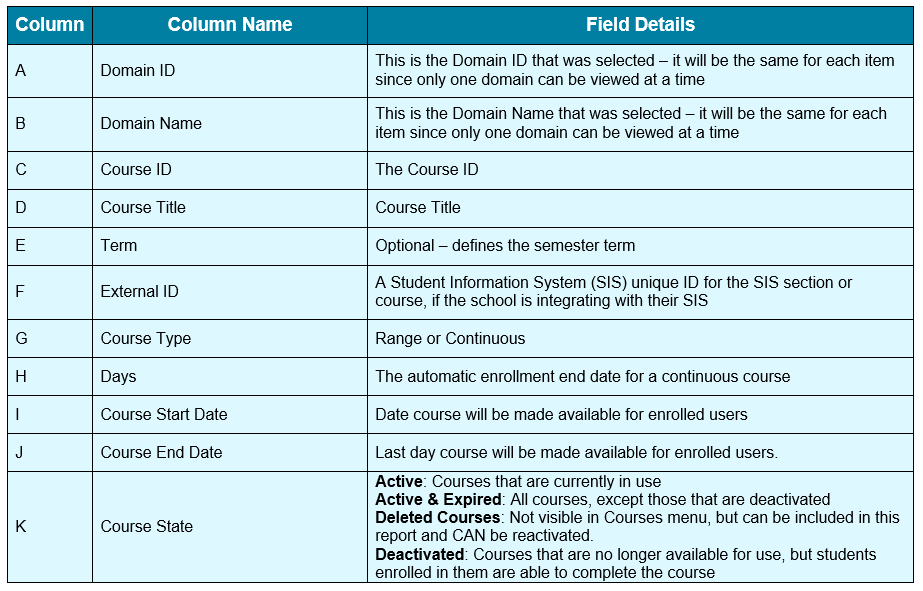 Additional Articles: