The Student Usage by Day report is also referred to as an Attendance report since it reports time spent in courses by day. This report is also referred to Idle Time report since it reports idle time for a student by day.
To Run an Overall Usage Report:
Select Other Reports from the Main Menu, then select Student Usage by Day.
Select the Input Criteria prior to generating the report (see table below). Note: Administrators and Teachers select from different input criteria.
Select an export option, then select Submit.
Reading the Student Usage by Day Report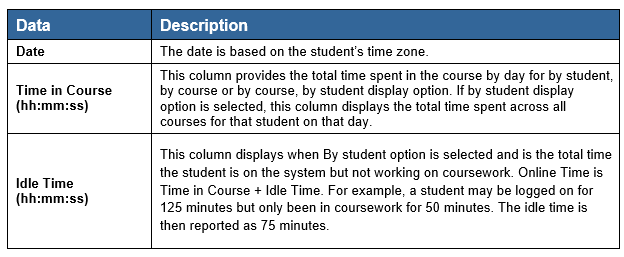 Notes on the Student Usage by Day Report
If an Administrator runs a report for certain teachers, only the courses taught by that teacher will display. If the teacher is enrolled in the course as a student, that course will not display as taught by that teacher.
Time in content for an activity that was deleted in the course will not display on the report.
Students who have saved assessments that were not submitted will not display even if the assessment was saved during the time range specified. Assessments are only displayed when they are submitted.
The date range filters on the activity end date. If a student launched an activity on 8/30/18 at 11 pm and worked in it for a couple of hours, the activity will span two dates of 8/30/18 and 8/31/18. If the teacher runs the student usage by day report for a date range of 8/30/18 to 8/30/18, the activity will not display since the activity end date is 8/31/18.
If a student logs in at 11:55 pm on 8/30/18 and logs out at 12:08 am on 8/31/18, online time will display as 5 minutes for 8/30/18 and 8 minutes on 8/31/18.
Idle Time is calculated as Online Time minus Time spent in course.
Submission date for manually graded items is the date the teacher scored the activity. When a student submits an activity, the activity status is Submitted – this is submission number 1. Submission number is incremented by 1 when the teacher scores the activity.
Running the report for Student option and Export option of CSV provides Time Online and Time in Course. Idle Time for the day is Time Online – Time in Course. Running this report in excel can allow teachers to add computed values of %Idle Time which is Idle Time/Time Online * 100. Note: Time online is only accurate for Display by option of Student. For Student, Course and Course, Student options, this column in the excel file should be ignored.
Additional Articles: