The Overall Usage report provides an aggregate of online time and time in courses for students. Sites can use this report for the following purposes:
student usage
attendance for a specified date range
determine which students have never logged in the system
To Run an Overall Usage Report:
Select Other Reports from the Main Menu, then select Overall Usage.
Select the Input Criteria prior to generating the report (see table below). Note: Administrators and Teachers select from different input criteria.
Select an export option and then select Submit.
Reading the Overall Usage Report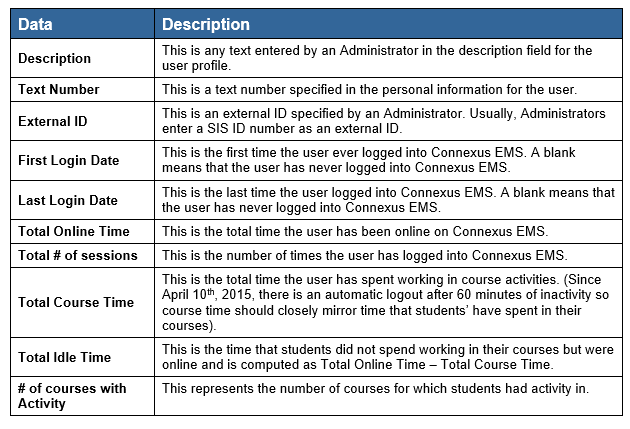 Notes on Overall Usage Report
Administrators can generate the report in Excel and sort by first login date. All records with first login date as blank will indicate students who have never logged in.
If a student has logged in for the first time and the report is generated almost immediately after that login, First and Last Login Date may show an incorrect date and times of 00:15:00. This date and time will display correctly if the report is generated minutes after the student logged in for the first time.
If a student was transferred to the site, the login information is not transferred but their course activity is transferred. If the report is generated before the student logs in to the new site, the course activity will show a value but either online time will display as 0 or online time will be less than the course time.
The report looks at domain permissions, (and not enrollment permissions), to determine if the user is a student.
Assessments that are saved will not display time until they are submitted. For example, if an assessment was saved on 03/01/2018 and submitted on 03/05/2018, the course activity time will display for a date range of 03/05/2018 to 03/05/2018 but not for a date range of 03/01/2018 to 03/01/2018.
Additional Articles: