Games Build Math Master Minds
Math is not just about numbers and shapes; it's also about logic and strategies. Playing games is a great way to build logic and problem-solving skills. Some strategy games have been around for centuries, but new games and variations on the old favorites are always being developed. This puzzle set includes a classic game that may be new to you and a brand new game that is less than ten years old!
Nim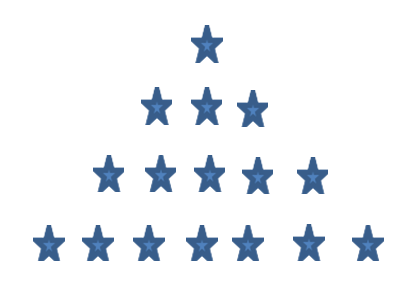 Nim is a quick pick-up game that only requires sixteen small objects or markers of some sort, such as paper clips, toothpicks, or coins. Variations of Nim have been popular in Asia, Africa, and Europe since the 15th century. Its current name is said to come from the German verb meaning "to take."
In this two-player game, the sixteen objects are arranged in a triangle with one in the top row, three in the second row, five in the third row, and seven in the fourth row. A turn consists of taking as many markers as you like from one row. For example, you could take one, two, or all three markers from the second row on your turn, but you cannot take one from row two and one from row three. The goal is not to have to take the last marker.
The person whose turn happens when there is only one marker to take loses the game. There are many strategy possibilities. Which ones can you discover?
TIC-TAC-TOE
Archeologists have shared evidence that tic-tac-toe has been played throughout history, even in ancient Egypt and the Roman Empire. The three-in-a-row game has gone by various names, including "Noughts (Os) and Crosses (Xs)." The current name was adopted in the U.S. in the 20th century.
All you need to play tic-tac-toe is an area divided into three rows and columns and some way of marking each player's moves. Who has the best tic-tac-toe strategies in your family? Do you think it matters who goes first? What is your favorite first move?
TICTACTOE10™
TicTacToe10™ is a new game that combines the classic tic-tac-toe game with the strategy of chess.
Nine tic-tac-toe grids, each with three rows and columns, are arranged in a "mega" grid. Each section of the "mega" grid contains a complete tic-tac-toe game board. The nine small grids and the tenth large "mega" grid are the inspiration for the name of the game.
Players need to keep in mind each time they make a move that they are determining where their opponent will move next. The position in the small grid where a move takes place (upper left, lower right, center, etc.) indicates which small grid the other player must use to make the next move. Because of this, players have to consider their moves carefully so they do not lead their opponent to an easy win.
There are several possible variations on the game:
Play can end when the first player gets tic-tac-toe in one of the small grids.
Play can end when no more tic-tac-toes seem possible. The person with the most tic-tac-toes is the winner.
Sample TicTacToe10™ Game
In this sample game, moves are indicated by X1, X2, X3, X4, X5 and O1, O2, O3, O4 to show the order of the moves (first, second, third,…).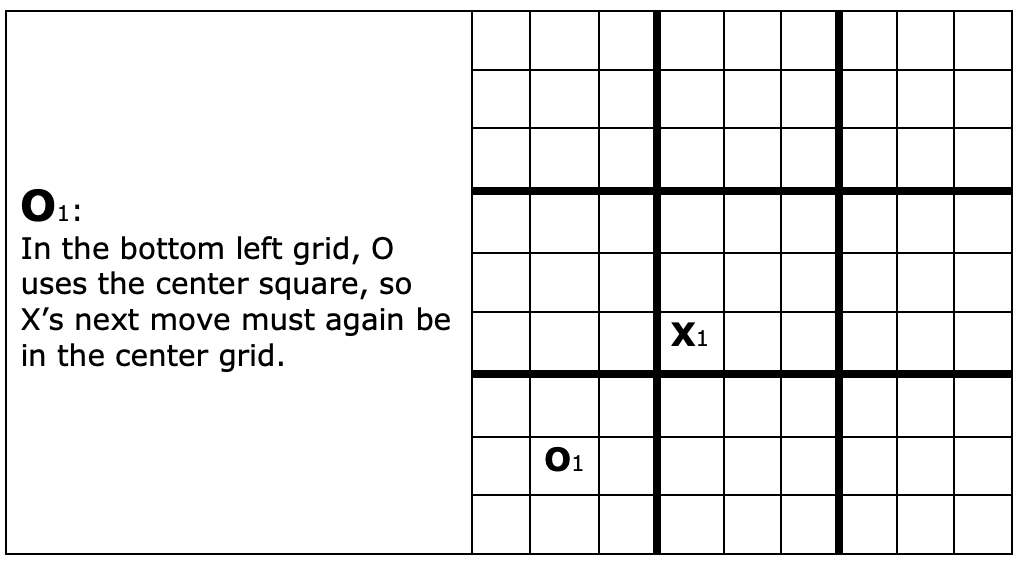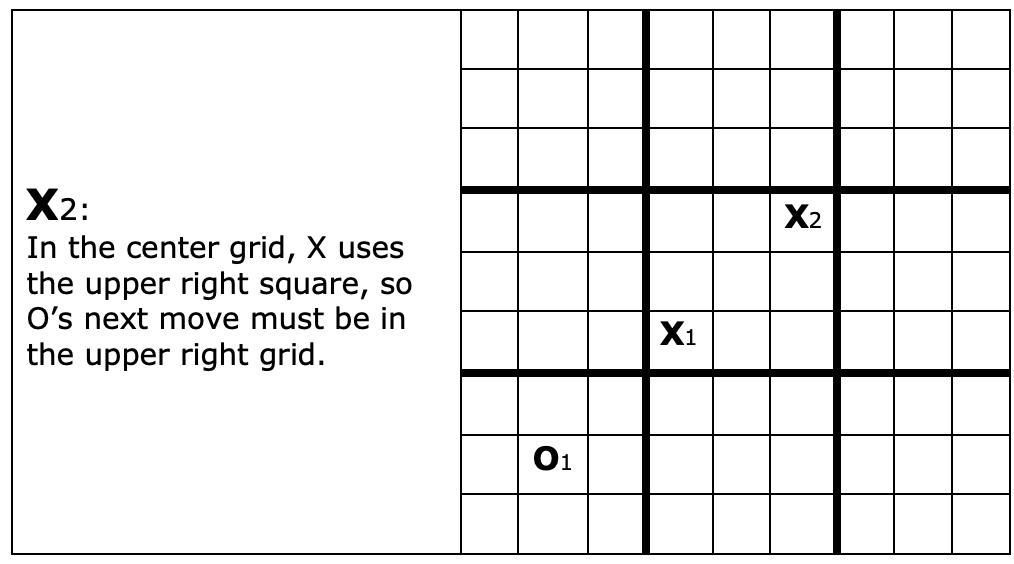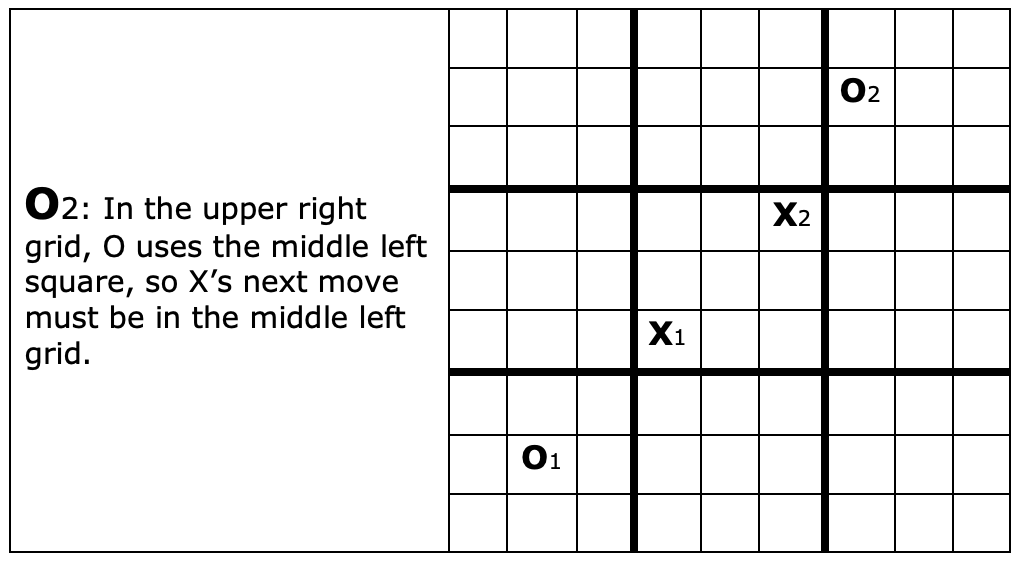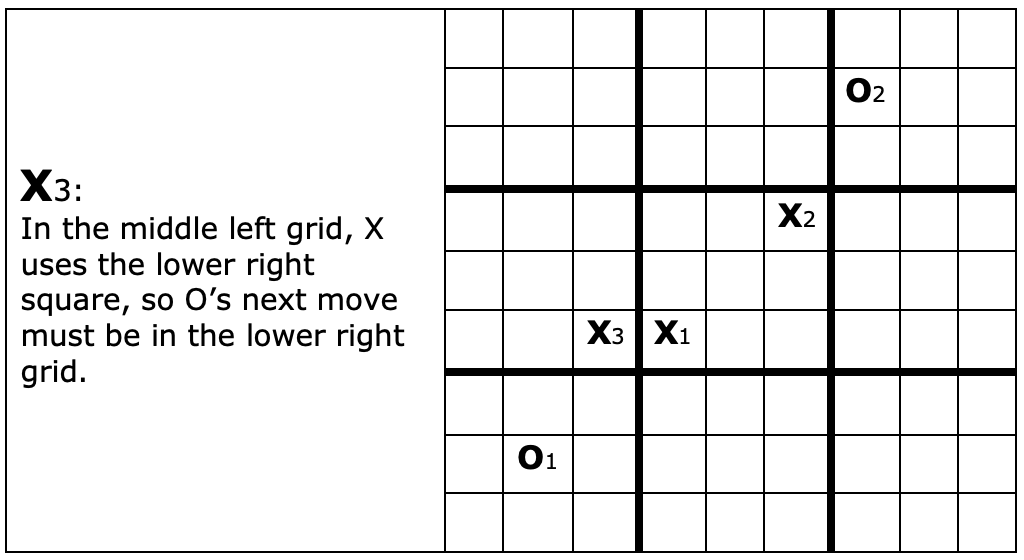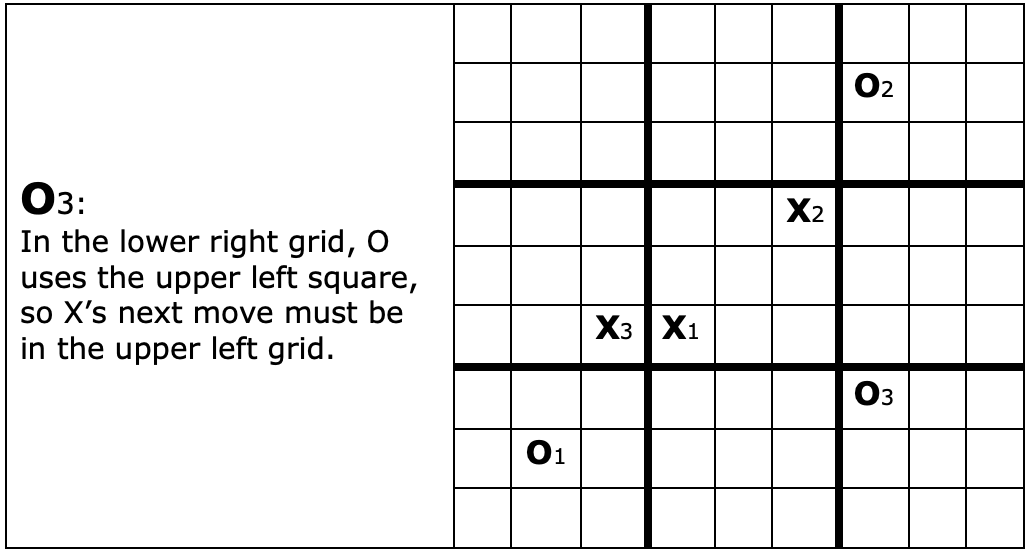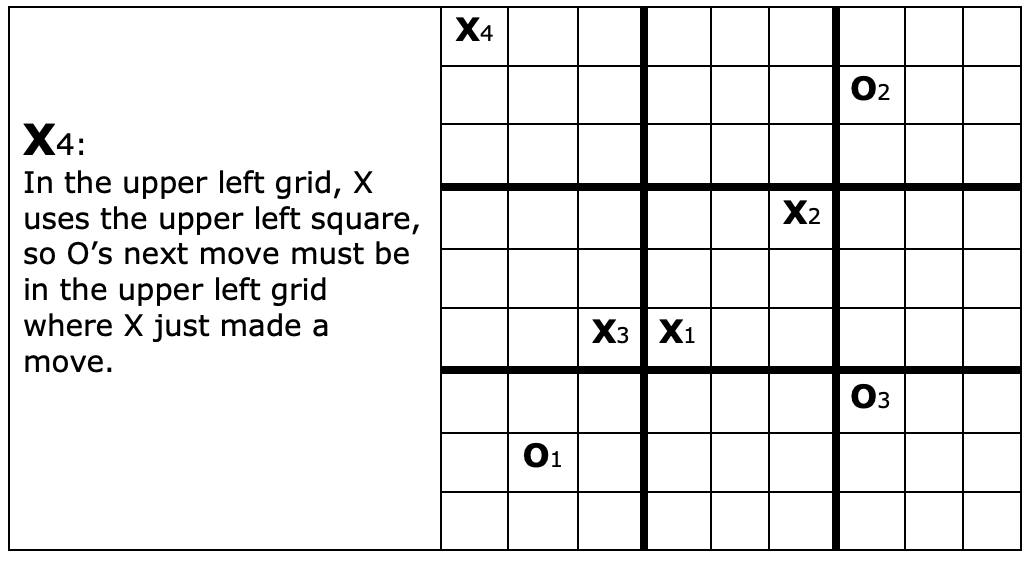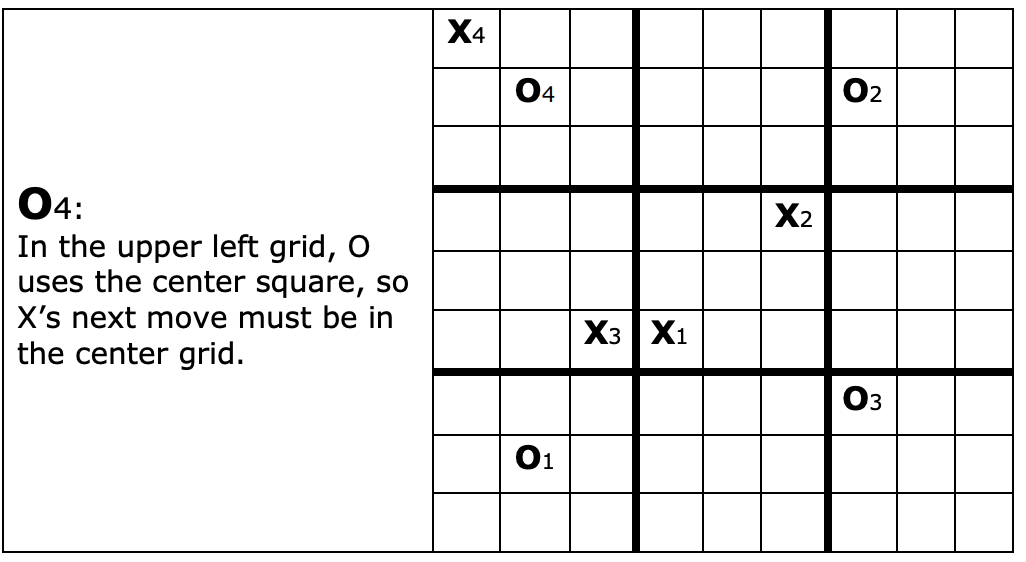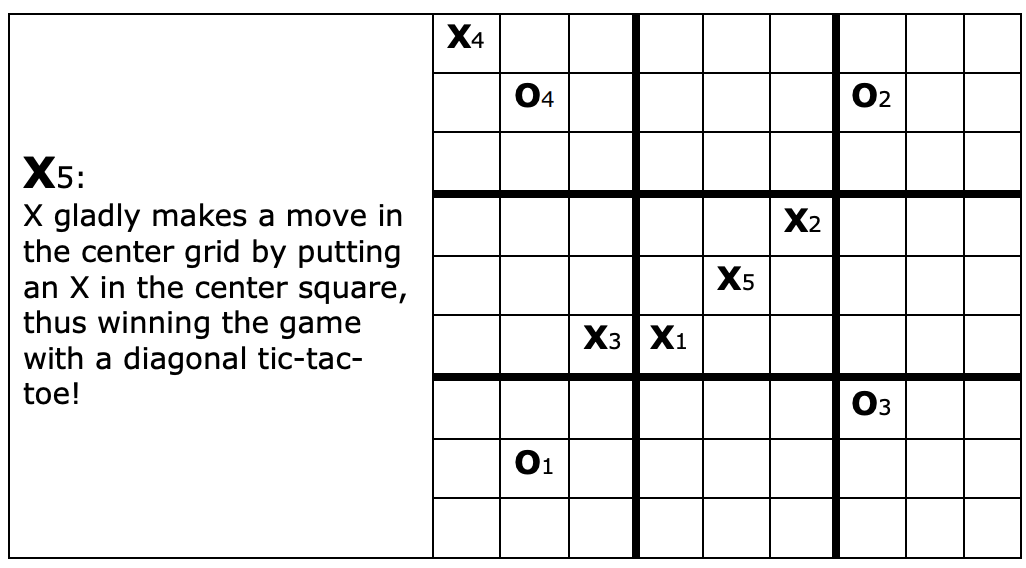 X IS THE WINNER!
Select the link http://www.tictactoeten.com/ to view a video tutorial for the game and to get ideas of other ways to use the SmartGrid™ board.
Print the TicTacToe10™ Grids to start getting to know this new game and build your math master mind strategies.