The content you create here appears above Course Cards on the users Home page.
To create Home page content:
Open the vertical menu in the toolbar of Domain Details.
Select Domain Settings.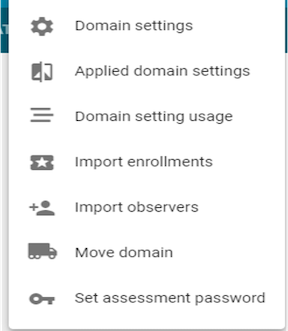 Select Add on the Landing Content card.
In the landing content editor, you can do the following:

Manage the placement Order in relationship to other landing content ("0" = top placement).
Use the Name field to give the content a name; it is automatically populated with the current domain title.
Indicate which Applications you want the content displayed for (Teacher, Student, or Teacher and Student).
Enter, in pixels, how tall you want the landing content to appear in the Height field.
Use the Type dropdown menu to choose how to create the landing content; you can:

Choose File to enable an upload field below.
Choose Text to enable a text field below.
Choose URL to populate the content with an existing website; enter the URL in the field that appears below.

Check the Enabled box to make the entry visible.

Select Done and Save.