When a course expires, students and teachers have a grace period of 14 days to still see the course on their home pages. During this time, Pearson will no longer upload submissions past the student enrollment end date. This grace period allows teachers, students, and Observers time to review their course completions and work with their Teachers if more time is needed.
Note: Although students can still see courses on their Home page, it is important that Teachers remind students to submit all assignments by Midnight EST of the course end date.

Teachers can view "Completed" students by:
1. Opening the course grade book and selecting Display options icon in the top toolbar.

2. Scroll down to Other view options and select Show inactive enrollments.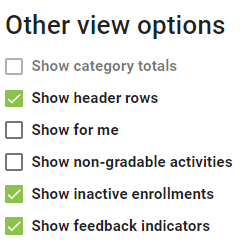 3. Select SAVE.
4. Now the student will appear with a Status of Completed.