Important: Pearson enables Administrators and Teachers to customize courses in many ways. While this is one of the more powerful features of this next-generation platform, there is the potential that making customizations in some courses could compromise the functionality, alignment, or efficacy of your virtual program. For more information, please contact Pearson Connexus Support. Phone: 844-597-3224 Email: pcxsupport@pearson.com Creating and modifying assessment questions is an advanced feature of Pearson. Refer to articles contained in the Editor Section of Pearson Support if you have questions on how to access or use these features.
Passages in Assessments and Practice Questions
Passage is listed in the question type dropdown, but it is not an interactive question template. You can use it to create and provide a passage of text, and ask students to refer to it in order to answer other questions in the assessment. You can provide a single passage for an entire activity and/or attach a passage to specific questions.

Passages can be added to assessments and practice question activities.
Add the Assessment or Practice Questions activity.
Add a passage to the activity from the question type dropdown menu.
Follow the directions, below.
Passage content
Enter the desired passage in the field provided. Use the rich text editor to attach media (images, audio (mp3), video (flv)), insert equations, create tables, etc.
This section pictures and explains the default visual editor; enable the Text editor to create and edit the passage with the advanced Text editor
Interaction
In the Interaction card, you can adjust the position of the questions.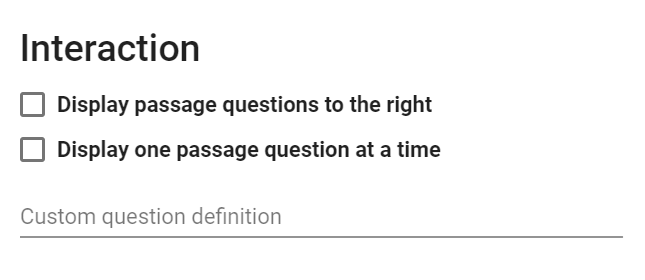 Metadata
Add the question to an existing Group with the associated ID, or create a new one. Groups allow you to vary settings for different questions.
Learn more: How do I vary attempt limits by question?
Objective mastery
Select Choose objective in the Objective mastery card to review and align the question with objective(s). Once you've clicked it, you can:
Use the Filter field to search for specific objectives.
Check the boxes next to objectives to align them with the question. This makes it possible to set up Formative and Remediation assessments.
Variables
With the Variables section you can create a range or list of variables for use in the question.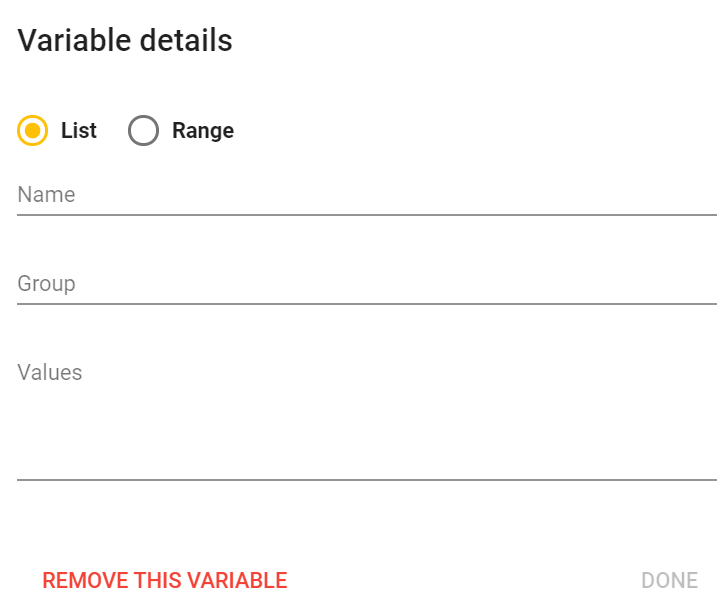 Calculator
Check the appropriate box(es) to provide students with one or more of the following calculators to use with this question (Basic, Standard, and/or Scientific). This can also be specified for the entire activity with the Assessment activity editor.
Companion Material
Select Add material in Companion Material to attach any supplemental documents students need to complete this question. You can do this by:
Pointing to existing resources in the course.
Uploading new files (PDFs only).

Additional Articles: