Course components
The structure you set up with the Syllabus is visible to your students on the Course Home. You can preview your students' view by opening the Activities tool.
You can build your course using:
Folders to organize your content into units, chapters, sections, etc.
Projects, which allow you to create and manage robust projects that provide an authentic experience, enable group learning, empower students, and encourage critique, reflection, and revision. These features are designed to support the critical components of project-based learning (PBL).
Interactive activities:

Assessments
Assignments
Blogs
Custom Activities
Discussions
Flashcards
Journals
Peer Assessments
Practice Questions
Surveys
Wikis

Content-delivery activities:

Embed Code
File Attachment
Rich-Text Activities
Website Links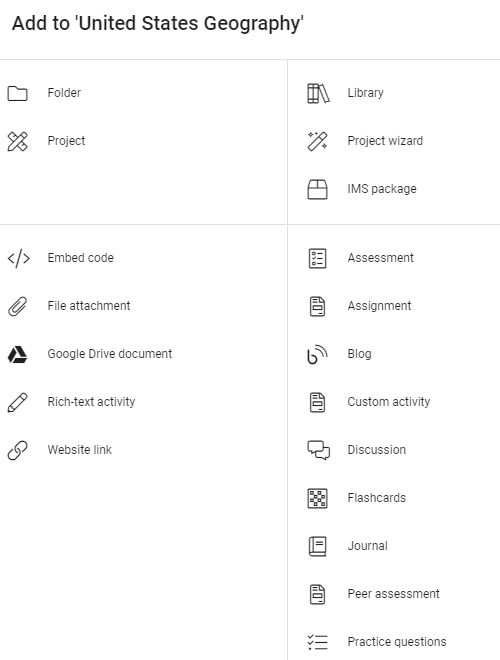 Build your course
Use the following tools to manage these activity types:
Select the thumbnail to expand and close folders.
An + Add activity icon is located at the bottom of each folder. Select it to add new Folders, Projects, or Activities to that folder.
Toggle the eye (visibility) icon to control whether the selected folder or activity appears in your students' Activities tool.
Use the pencil (edit) icon to edit the selected folder or activity.
Use the side menu to Preview, Move, Delete, or Duplicate the selected folder or activity. You can also move folders and activities by clicking and dragging and dropping them.
Additional Articles