The end of the school year is here! As we close the school year, we would like to remind you of our return process for physical materials.
The following non-consumable items should be returned as soon as the course is complete:
All components from each of the following:
• LA K Little Books Package
• Readers
• My Skills Buddy
High school textbooks:
• Course - AP Biology: Campbell Biology, 11e AP Edition
• Course - AP Macroeconomics: Macroeconomics for Today, 10th ed. Irvin B. Tucker
• Course - AP Psychology: Psychology
• Course - AP Statistics: AP Statistics Premium
• Course - AP Statistics: Introduction to Probability & Statistics
Please advise your families to use the following self-service system to create label and return materials free of charge.
Initiating Your Return
Materials should be securely packaged in their original box with packing material to prevent damage. If you did not keep the original packaging, any sturdy box may be used. Additional boxes and packing materials are not provided by Pearson.
Please process free prepaid return labels or a next business day UPS Pickup using Pearson's UPS Returns Guest Portal by visiting the webpage and clicking the
Pearson Returns Site button (

). Click the "I'm not a robot" check box and
complete the captcha, then follow the instructions on the left of the Shipping Information form.
Pearson's UPS Returns Tips:
In the Please choose the division: section, select Pearson.
In the Shipment section, locate the Choose item being returned dropdown menu and
select "BOOKS". Leave the Household/Student ID blank.
One label per box.
If you require multiple labels, click "Add" and repeat Step 2.
Click "Process Shipment" to generate the e-mail label(s), QR code, View and Print label(s), or schedule the next business day UPS Pickup.
Please check your spam/junk folders if the e-mail from UPS Return Labels (no- reply@ups.com) does not arrive in your inbox.
Example: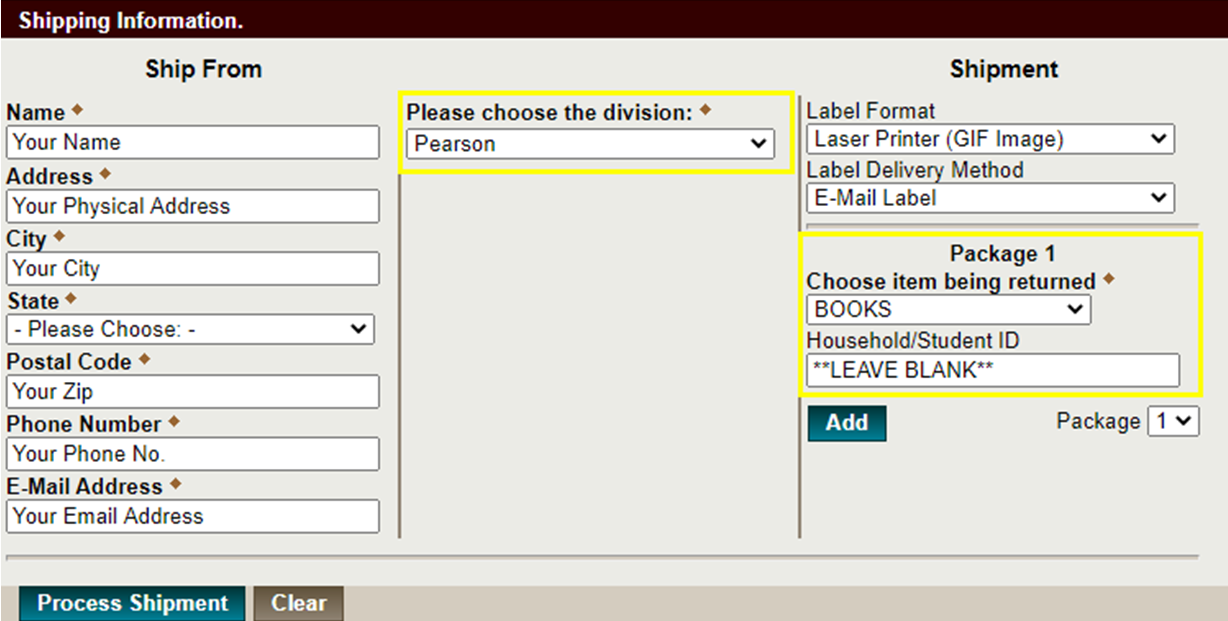 Please contact your Program Manager if further assistance is needed.