From the Main Menu, you can:
Manage people, activities, content, etc., from all of your courses using the menu items in the top section.
Open any of your courses to manage them.

Access Help.

When a course is selected from the menu, the top section compresses, and a course-specific menu expands allowing you to:
Still access global content from the compressed menu.
Navigate back to the original Main Menu.
Open the Activities, Gradebook, Reports, People, Global Course Settings, or Editor tools for the selected course.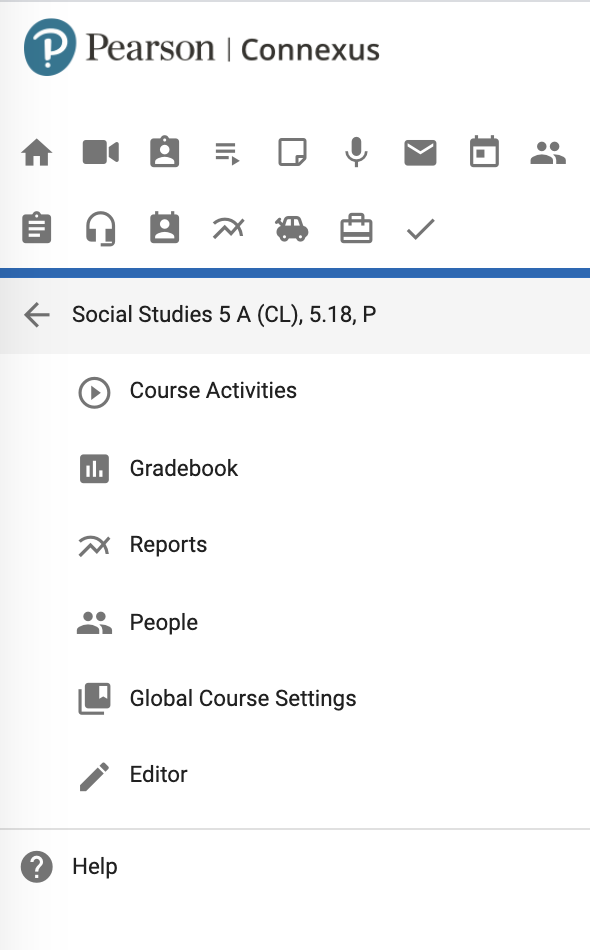 Teacher tools for all courses
From the top section of your Main Menu, access the following tools:
Home: Home is the Pearson Connexus landing page and starting point for navigating the app. It displays current announcements for all courses, the To-do List (Needs Grading) for all courses, and Course Cards. This tool gives you a good overview of what's happening in all of your current courses.
Enrollments: (Pearson Connexus only) The Enrollments tool provides an at-a-glance view of a student's academic performance across all courses, which aids Teachers in determining which further actions to take.
Needs grading: The Needs grading screen lists all of the activities that need grading from all of your courses.
Notes: The Course Notes feature allows students to capture their ideas, key concepts, questions, and other notes while learning course content in Pearson Connexus.
Announcements: Use this tool to read and create announcements for one or more courses.
WebMail: (Pearson Connexus only) Send WebMail Messages to Teachers and Students who share course enrollments with you.
Calendar: The Calendar displays due date notifications. Select a date or view for a list of activities.
People: The People tool provides at-a-glance access to various student data points in one simple table. Use it to track student progress, create and manage groups, send mail, and invite, add, or drop students.
Clipboard: Use the Clipboard to quickly provide personalized attention to individuals and groups of students. It is always available in the toolbar for ease of use, and you can assign activities, award badges, assign tasks, and message students quickly and easily.
LiveLesson (Pearson Connexus only)
Student Activity Tracker:

(Pearson Connexus only)

Track attendance

and

create, view, and manage log entries

for students.
Other Reports:
GED Vouchers
My Pearson Training: Use the link provided in Pearson Connexus to locate additional articles and materials not found on the Pearson Connexus Support site.
CheckMyWork: This tool is still in Beta Testing. Check back for more information when CheckMyWork is fully released.
Teacher tools for individual courses
With a course selected from the bottom section of your Main Menu, access the following tools: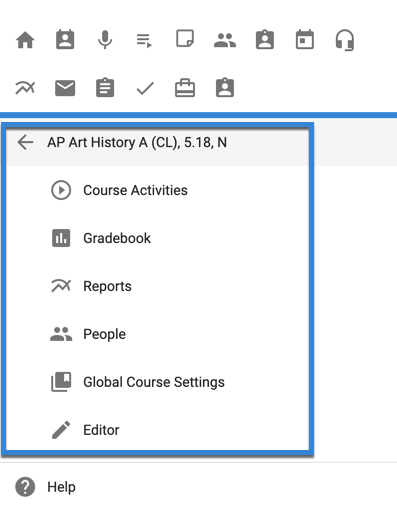 Take advantage of these tools to encourage students to take ownership of their education, foster greater teacher-student communication, and facilitate various education models.