When students open Course Activities, they will see the Course Landing page. Teachers can add personalized information to the Landing Page to help students quickly locate teacher contact information, important course information, or recordings.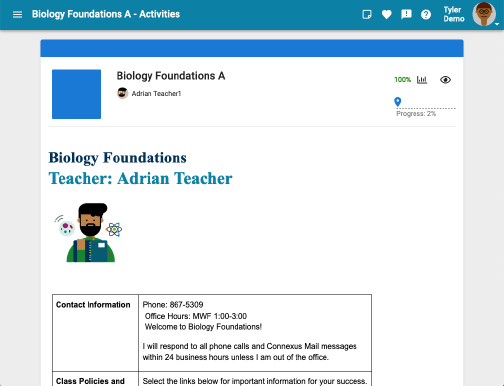 Add Landing Page Content
To add Landing Page content:
1. Open Course Activities from the Course Card on your Teacher Home page.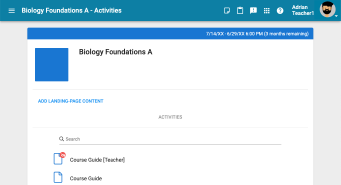 2. Select Add Landing page Content from the Landing page section.

3. Add your information to the Landing page editor. Feel free to make it fun, visually appealing, and informational for your students. Please remember that when creating hyperlinks:
▪ ensure hyperlinks have meaningful link text
▪ avoid using URLs or generic language like "click here"
▪ examples:
Correct: View the

School Handbook

for more information.
Incorrect:

Click here

to view the School Handbook.
Incorrect:

Visit www.samplefakelink.com

for more information.
4. Select Save.
5. Review your content for accuracy and ensure that all hyperlinks work correctly. Select the pencil icon to make any needed updates.
Landing Page Template
[Course Name]
Teacher: [Your Name]
[photo or image]
Contact Information

Phone:

Office Hours:

[Welcome Message to class]

I will respond to all phone calls and email messages within 24 business hours unless I am out of the office.

Class Policies

and Academic Integrity

Select the links below for important information for your success.

[My Class Policies]

Policies:

Student [Code of Conduct] and [Honor Code]

[Academic Integrity for Students]

Resources and Portfolio Information

Select the links below for resources to help you succeed.

[Follow hyperlink naming protocol when adding additional hyperlinks here, as needed.]

LiveLesson Session Information

[Course name] LiveLesson sessions are offered at two times each [week] and take place in [Teacher's Name] LiveLesson room. Choose the option that best fits your schedule.

| | | |
| --- | --- | --- |
| Option 1 | ...choose... | Option 2 |
| Monday at 1:00 PM (ET) | OR | Wednesday at 11:00 AM (ET) |

Instruct students to use the LiveLesson link in the menu, and select their teacher's name to start the session.

© 2020 Pearson Online & Blended Learning K-12 USA. All rights reserved.